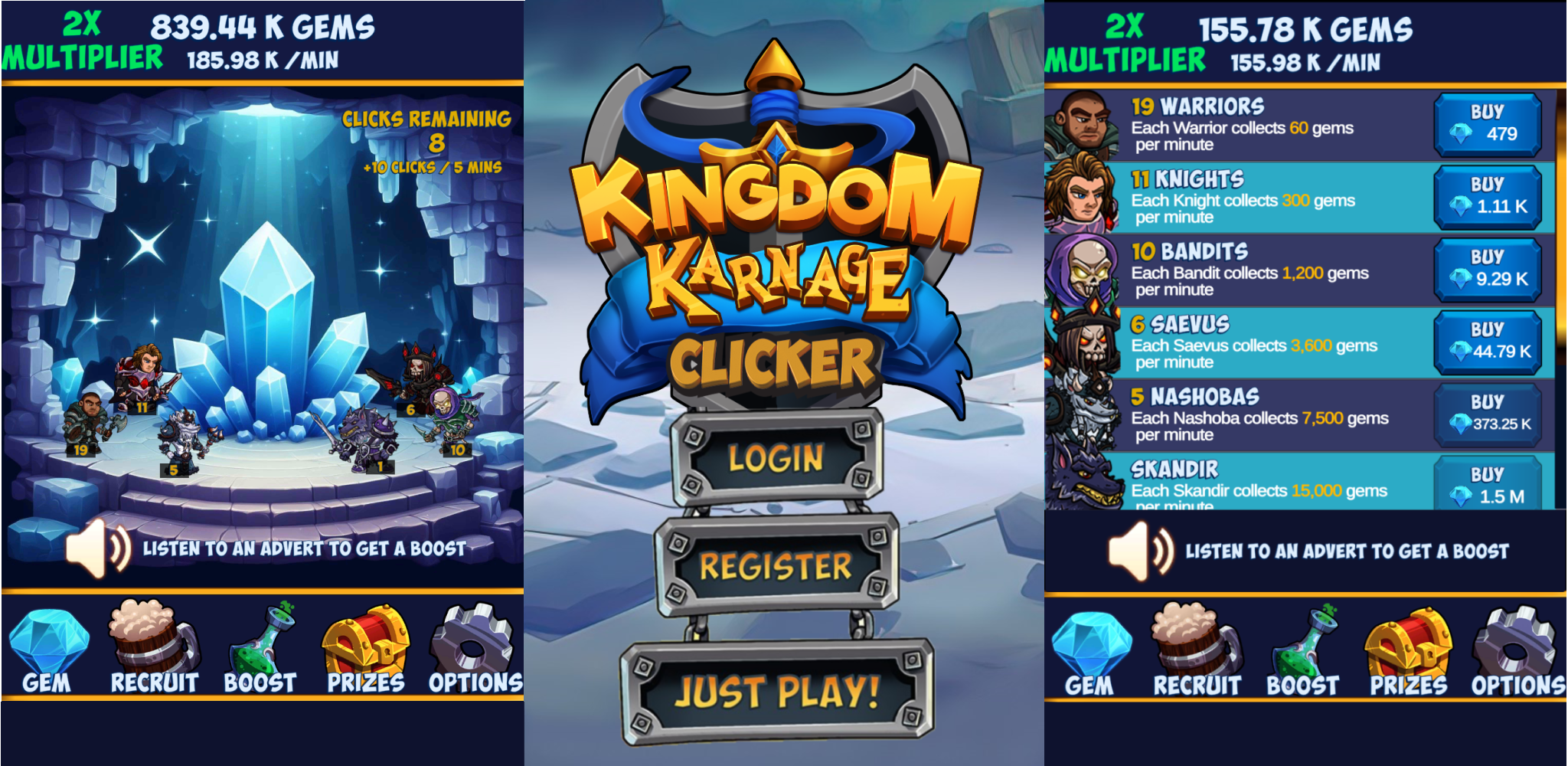 In the expansive universe of Kingdom Karnage, Kepithor Studios introduces the captivating third installment to their play-to-earn series – KK Clicker. Available on Google Play and iOS TestFlight, KK Clicker takes a unique spin on the clicker genre, offering players a delightful and rewarding experience.
Use our Referral Code for Special Rewards: zozQ0zax
Gameplay You Always Have Time For:
At the heart of KK Clicker is a simple yet engaging gameplay mechanic. Players start by clicking on the giant gem to earn gems. These gems can then be strategically spent to hire workers who tirelessly mine gems for you, or on upgrades to enhance efficiency. The game operates in weekly seasons, adding an element of strategy and competition as players hoard gems to climb the leaderboard and secure a share of the weekly prize pool.
Seamless Integration with the KK Universe:
KK Clicker seamlessly integrates into the Kingdom Karnage franchise, sharing a premium currency balance (KKT) across all titles. Furthermore, KK: Clicker supports Kingdom Karnage Hero NFTs, creating a cohesive experience for players who have acquired these assets in other KK games.
Endless Progress and Customization:
With the ability to hire eight different characters and access over 100 upgrades, KK Clicker offers a wide range of customization options. The weekly season resets provide an opportunity for players to strategize and optimize their approach, ensuring an ever-evolving and dynamic gaming experience.
Everyone Wins with KK Clicker Referrals:
KK Clicker not only invites players to enjoy the game but also encourages them to share the experience with friends, family, or their online community. Each player receives a unique referral code, which, when shared, grants 10% of the referred player's in-game KKT spends. The referral system extends beyond KK Clicker, offering additional benefits in Kingdom Karnage and Kingdom Karnage: Heroes, where referrers receive 1% of Marketplace spends and 10% of in-game shop spends from their referrals.

Conclusion:
KK Clicker stands as a testament to Kepithor Studios' commitment to innovation within the play-to-earn gaming landscape. With its accessible yet strategic gameplay, seamless integration with the KK universe, and a rewarding referral system, KK Clicker offers players an experience that goes beyond the screen. Join the gem-mining adventure, strategically click your way to the top of the leaderboard, and explore the interconnected world of Kingdom Karnage at KepithorStudios.com.
Official Links:

Discord: discord.gg/ufkg8bCCnr
Facebook: facebook.com/KepithorStudios/
Instagram: instagram.com/kingdomkarnage/
Medium: medium.com/kingdomkarnage
Reddit: reddit.com/r/Kingdom_Karnage/
Telegram: t.me/KingdomKarnage
Tiktok: tiktok.com/@kingdom_karnage
Twitch: twitch.tv/kingdomkarnage
Twitter: twitter.com/kingdom_karnage/
Youtube: youtube.com/channel/UCNZonwa7YrmLLWwLEmoDT-g


Useful Links:

Shop: kingdomkarnage.com/payment-options
Events: kepithorstudios.com/events
TG Market: t.me/KingdomKarnage_MarketMonitor
TG Overseer: t.me/KKOverseer