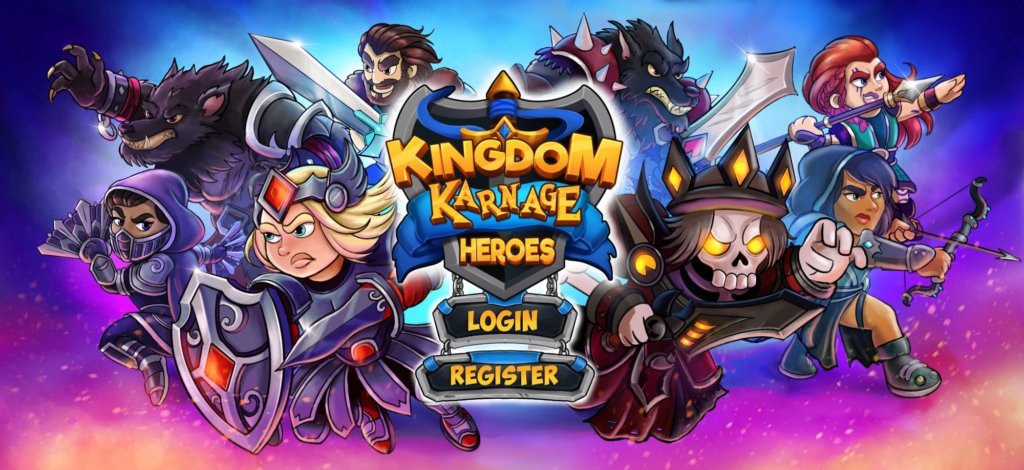 In the dynamic realm of Kingdom Karnage, Kepithor Studios presents their second play-to-earn marvel, Kingdom Karnage: Heroes. The KK Heroes public Beta, launched on Monday, 26th September, at midday (12:00 UTC), brings an immersive and strategic gameplay experience to both new and seasoned players.
Gameplay You Always Have Time For:
KK Heroes redefines the play-to-earn landscape with quick, animated battles against other players' decks. The game's design ensures short and sweet encounters, perfect for players who are always on the go. AI controls both sides, allowing players to focus on managing their team of warriors. Earn Ability Points in battle to power up your team's stats and out-strategize opponents in 1-week seasons with KKT prizes for the top 15% of players.
Kingdom Karnage Crossover:
True to its name, KK Heroes unfolds within the same universe as Kingdom Karnage. Players will find familiarity in the artwork, backgrounds, and game menu, creating a seamless transition for Kingdom Karnage enthusiasts. Moreover, Kingdom Karnage players will be thrilled to discover that some assets, particularly Heroes and Dynamic characters, can be seamlessly transferred between Kingdom Karnage and KK Heroes. Both games also share a native cryptocurrency: KKT.
Everyone Wins with KK Heroes Referrals:
KK Heroes puts a unique twist on user acquisition. To sign up for KK Heroes, a referral code is a must. Every account is generously equipped with a referral code, empowering players to share the excitement with friends, family, or their online community. With no limit on the number of referrals a single account can make, earning from referrals becomes effectively unlimited.
Sign Up Today!
Embark on the strategic journey with Kingdom Karnage: Heroes, available for download on Google Play. Remember, a referral code is your key to getting started, and you're welcome to use ours: zozQ0zax Explore the depths of the game through the official guide for an in-depth understanding of the KK Heroes universe.
Kingdom Karnage: Heroes blends strategy, competition, and the play-to-earn model seamlessly, inviting players to join the ranks and claim victory in the KK universe. Download today and let the battles begin!
Check out also KK: Clicker – another Play to Earn Gem from the KK Universe: https://dappromo.com/2023/11/11/kk-clicker-the-newest-gem-of-a-play-earn-game/
Official Links:

Discord: discord.gg/ufkg8bCCnr
Facebook: facebook.com/KepithorStudios/
Instagram: instagram.com/kingdomkarnage/
Medium: medium.com/kingdomkarnage
Reddit: reddit.com/r/Kingdom_Karnage/
Telegram: t.me/KingdomKarnage
Tiktok: tiktok.com/@kingdom_karnage
Twitch: twitch.tv/kingdomkarnage
Twitter: twitter.com/kingdom_karnage/
Youtube: youtube.com/channel/UCNZonwa7YrmLLWwLEmoDT-g


Useful Links:

Shop: kingdomkarnage.com/payment-options
Events: kepithorstudios.com/events
TG Market: t.me/KingdomKarnage_MarketMonitor
TG Overseer: t.me/KKOverseer